Don't buy cards, unless you must.   Write your Soul-mate a love letter on the first two pages of a new journal, and let him/ her use it the rest of the year to sketch, doodle, write lists, poetry, songs, whatever.. but always know how loved s/he is.   So – it's like a gift and a card all-in-one!
A basic marbled notebook (with a decorated cover) would do just fine for a few bucks, or splurge on this handmade journal made from Nepalese lokta and mulberry papers that has recycled paper inside, comes wrapped in a resealable biodegradable sleeve (which is made from plants,) and has eco-licious black coconut shells and hemp that adorn the spine (this eco-handmade company donates a percentage of its profits to animal-welfare groups.)
Shot through the heart, and you're to blame, Darlin' you give love a bad name!   Show her how bad you got it for her with this handmade in NY realistic looking heart with a dagger going right through it.
Perfect for cramps, back pain, or general "I'm-so-cold-I-can't-feel-my-fingers" malaise, this hot water bottle is sweet and the price is right.
Show him (or her) your love should be displayed as close to his/ her privates as possible with these cutie manties that proclaim; "Veganism is for lovers."   There are girl versions available as well.
An organic nightie that looks pretty and is comfy?   Done-zo.
Make your yiddishe Mama yours 4eva with this cute name plate jammy.
You'll want to sext him an email using these keys.
Super cute (and totally within budget) two pack of leopard panties, one for you and one for your BFF.
Plan your Valentine's Day outfit around these sexy, embellished heels in the other color of love.
Get undressed and flaunt your bod on a set of personalized Nesting Dolls by Hally McGehean.   You will be asked to photograph yourself in the privacy of your own home (or wherever you choose!), select five of your favorite photographs, and send them the files.   Hally will transform your photographs into a set of five handcrafted decoupaged Nesting Dolls.   Strip off a layer of clothing for each photo, or strike various poses… whatever you choose, this is a great way to give your lover a taste of what's to come!
Want to stick to classy lingerie?   We can respect that, old schoolio.   Check out these gorgeous sets that all cost under $75.
Preggy girls: We'd never leave you out! Check out this maternity lingerie you'll actually want to wear.
Little girls need love too!   We heart Sama Baby, a new site devoted to all organic and all natural baby and child garb.
Looking to send him/ her a basket of treats that s/he won't regret eating in the morning? Check out Three Tablespoons; All gourmet treats are freshly baked with whole grains, fruits, vegetables, beans, herbs, seeds, and a very light hand of unrefined sweeteners.   They are all kosher, organic and vegan AND (best of all!) have NO white flour, trans-fats, refined sugar or artificial ingredients! Luscious brownies, creamy ganache-covered cupcakes, ultra moist muffins and decadent cookies. You'd never guess beans, avocado, zucchini and flax seeds are among the ingredients.   Perfect for family and kids too!
Of course you know we also have a hard on for fudge from Allisons Gourmet (Get 10% for $75 or over by popping the code GGA75 in the comments section of their order form,) custom cakes from Vegan Treats, and truffles from Lagusta's Luscious!   (All deliver! All vegan! Most kosher!)
Want to put together a basket of goodies, or spend under $20?   Yea, we got your hook up! Made with only natural, vegan ingredients, and paraben-free Pacifica's body butters are bound to be your new BFF.   Lotus Garden is our favorite of the many, many scents.. but they are all divine – one is better than the next.   And super rich for ashy winter skin!
Belt it on him or her with this true love message.
Let him (or her) represent the dog lovers in this cozy tee.
Smell up the house with the smell of your… thorniness? A Scent of Scandal is a vegan, cruelty-free soy candle company whose candles smell as delicious as they sound.   Check out their site for a slew of delicious (and affordable) candles.. with names like; Lick Me (Lollipop), Big Daddy (Hard Wood), and Me So Thorny (Rose.)
Truth is love, right?
Want to get her/ him something fun for the wall, but don't have time to scroll etsy, flea markets, and small galleries for hours? These fun portraits can be customized and are painted and crafted from the images of your choosing.   Hey, it's definitely unique!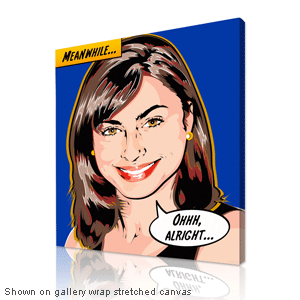 Or s/he can carry your message of love everywhere s/he goes… on her/his laptop with this laptop skin from one of our favorite artists, Tara McPherson.
Want to give the gift that can never go away, other than herpes of course.   Why not a tattoo?   Preferably from a vegan artist, using vegan inks.
Some of our faves:
Seth Wood in NYC
Danielle DiStefano in ATL
Scapegoat Tattoo in Portland
And if you must do flowers, why not a gorgeous dried bouquet that will smell up the house gorgeously for years, rather than die in a week?
Finally, what says "I Love You!" more than poop?   Toiluxe's range of custom-made toilet seats will take your bathroom, and your loved one's bowels movements, up a notch.   (Email [email protected] for 15% off your order before hitting the "pay" button.   Mention GIRLIRGIRLARMY in your email. The discount is also available for custom items.)