Toiluxe custom toilet seats at a lavatory near you
Toiluxe, brought to you by Boston area artist Stephanie Ziobro, could possibly be the best thing to hit your bathroom since two-ply toilet paper. Maybe you have just had a new bathroom installed with the help of qualified plumbers, like those from Morris Jenkins, for example, but it may feel like something is missing. Bathrooms tend to be mainly white and can be devoid of color and art. This doesn't have to be the case. Realizing that the bathroom is the smallest yet easiest room in your place to decorate with eclectic flair, Toiluxe custom designs toilet seats to tickle the fancy of your fanny with artwork ranging from elegant to outrageous to anything your derriere desires. If it's not already obvious, this is so our cuppa tea! In fact, GirlieGirl Army's office proudly displays a Toiluxe Toilet Seat which is, without a doubt, always the most commented item on from visitors. If you are looking to buy one of these products, be sure to make sure that it isn't too gross to flush your toilet, because if it can't be fixed you may have to fork out some more money to have it repaired or refitted!
Toiluxe is one of a kind "functional" art, using an original medium – toilet seats. Each seat is hand-painted and cured with a sealer to prevent water damage. Toilet seat mounting hardware is included, however feel free to display it outside of the bathroom. Hang on your wall, over the peephole of your door, wherever you see fit.
So many people Stephanie ask, "How on earth did you think of this?" Stephanie needed a housewarming gift for that 'person who has everything.' "I myself am one of those people," she says. "I know what it's like to be on the receiving end of another kitschy collectible, retro design coffee table book, funky framed Jesus picture… I love each and every item, but I am always faced with the dilemma of where to PUT everything. I'm not patient enough to deal with seasonally switching things up, and I can't bring myself to pack away older items because I have a sentimental attachment to each one. They all define me, define my lifestyle, define how I feel when I wake up in the morning. In fact, the only room that didn't really reflect my personality was my bathroom, which was fine, because how much time do I spend in there anyway?" She laughs, "And then I thought, 'actually, kind of a lot…'"
Since each Toiluxe seat is "made to order" no design is an exact duplicate of another. Customers can visit www.toiluxe.com and purchase pre-made seats featuring classic nudes, kitschy pop-culture themes, various religious icons or custom design their own seat to match their pre-existing decor. Custom orders have ranged from Alice Cooper to corporate logos, Chuck Norris to Charles Darwin. No request is too outrageous and any vision you have can be applied to your most useful seat in the house. Toiluxe seats cost between $60 and $80… cheaper than a nice floral arrangement, and lasts forever!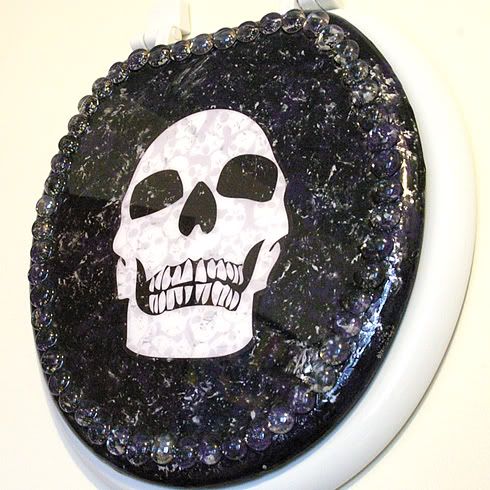 Buyers can receive 10% off any Toiluxe toilet seat with the discount code GIRLIEGIRL. Just email shop [a] toiluxe.com before placing your order and include the seat you'd like, the discount code, and your email address in the body of the email.
AND:
WIN a custom-designed or pre-designed Toiluxe Seat

(worth up to $100) by being a GirlieGirl Army member (if you aren't yet, sign up here) THEN by leaving a comment (below in the comments section) as to WHY you want one of these seats, and if custom designed what you'd want designed and WHY. ON April 30th the winner will be chosen (by the Toiluxe crew) based on the most creative comment!