Without making you feel like a dummy, GirlieGirl Army homegirl Alexandra Jamieson (she of Oprah, 30 Days and Super Size Me fame) has written the one-stop-shopping book for anyone interested in making the switch to a healthier and more compassionate plant-based lifestyle.
Why we love this book: While explaining the who's, what's, why's and how's, this natural health and nutrition expert provides tips and roadmaps for beginners starting on the vegan path from every stage of life. Without preaching, Jamieson gives advice on how athletes, pregnant women, parents, kids, teens and even retired folks can make informed choices on how to transition to veganism.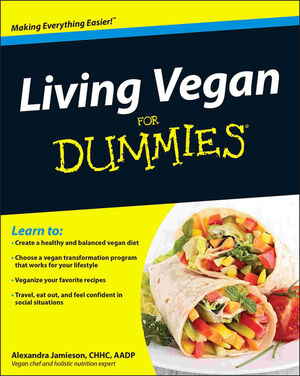 While providing tips for getting kids to love their veggies, Alexandra also shares how to navigate tricky social situations, traveling while vegan and lists of great snack foods for everyone to share –  even meat eaters. Did I mention she also covers how to live in a mixed-household and keep your relationship harmonious when one person eats meat and the other doesn't?
Who will love this book? Parents of young wanna-be vegans, high school and college aged kids who are experimenting with a new, exciting lifestyle, families looking at improving their collective health, soon-to-be mommies, and adults who want to avoid getting sick. That covers most Americans!
Comprehensive and even fun, Living Vegan for Dummies offers delicious and easy recipes that beginners and long-time vegans will enjoy. While introducing new, health-supportive ingredients and new combinations, these recipes can be made by even novice home-chefs.
Some of the fun information you'll find includes:
How a vegan diet is not only full of all the protein you need, but information on how the average American is eating too much protein and getting sick as a result.
How to make easy, home-made pickles.
Lists of vegan-friendly beer, wine and booze – no cow's blood in my vino, please!
Baked Kale chips that kids love!
How vegan athletes can bulk up and improve their performance
Why you should care about what Alexandra has to say?
She's educated: She is a professionally trained healthy gourmet chef, having studied at Natural Gourmet Institute for Health and Culinary Arts, and refined her techniques by cooking professionally in Milan, Italy, as well as at a variety of popular New York City restaurants.   Alex is also a certified health and nutrition counselor who studied with ground-breaking pioneers in the field of nutrition at the Institute for Integrative Nutrition, which is accredited by Columbia University's Teacher's College and by the American Association of Drugless Practitioners. Her knowledge of nutrition has been artfully developed through years of both professional- and self-study. As the daughter of natural health advocates, Alex crafted a unique personal mission to spread the word about the power of healthy food and the astounding ways in which it can positively transform everyday life. Alex now commands a matchless repertoire of nutritional wisdom and food savvy which we are happy to be able to co-opt via reading her books (and being her friend!)
In her 2005 book, The Great American Detox Diet (Rodale), Alex offered us remarkably sane – and tasty – advice on how to detox, live healthfully and feel fantastic.   In her new book, she gives us every single bit of information you could possibly need to get rid of the crap in your diet, and start feeling and looking gorgeous.
She's a globe trotting Mammazon of a vegan-since-inception little boy who has done it all! Alex traveled the world, visiting over 20 countries, premiering Super Size Me, an Oscar-nominated documentary, acting as a messenger for the power of holistic nutrition and healthy detoxing. Though she readily and ably shares her message with all, her passion is helping professional women enhance their ability to excel and achieve, using healthy food as a catalyst. A healthy and energetic vegan herself, Alex lives in New York City with her family. Alex has proven herself to be a wise and profound voice for holistic nutrition and healthy living, so go on, buy her dang book.
And the fact that she looks like this (below) doesn't suck.
You can buy Alex's books anywhere books are sold, and learn more about her (and contact her for private nutritional training) via her website: www.nutritionforempoweredwomen.com