It was Spring '09 – Nikhil Arora and Alex Velez were seniors at UC Berkeley. Both of them had offers in corporate America. Investment banking and consulting seemed to be the futures waiting after graduation. All that changed one day after listening to a lecture in their business ethics course when they first heard about the idea that gourmet mushrooms can be grown entirely on recycled coffee grounds.
Thinking they could really do something with this idea, they discussed the possibilities. America is absolutely addicted to coffee. The world production of coffee is nearly 7 million tons a year. Only 1% of the coffee bean ends up in the cup, the rest in the land fill. The possibility of diverting this waste stream, into something of value, gourmet mushrooms, was something that couldn't be let go. As the weeks went by, says Nikhil, "we really dove into first seeing if we could actually grow mushrooms from coffee grounds, and then seeing if this idea could work as the basis of a full scale social venture."
To start testing it out, they planted 10 buckets of gourmet oyster mushrooms in their fraternity kitchen, and out of that, only one grew. But in that one, Alex says "we saw potential…we saw where this could go." The two then took that one batch over to their local Berkeley Whole Foods where the team members really took an interest. After getting positive support from Whole Foods, and a few weeks later, a $5,000 social innovation grant from the university's Chancellor, they knew this was a path they had to embark upon. With so much innovation happening in many industries, the duo will no doubt have access to a plethora of business tools they can use to their advantage. They may even consider leveraging cutting-edge technology, and aim to transform business with blockchain or similar solutions to kick-start their venture. After graduating last spring, Alex and Nikhil gave up their corporate titles to carry a new one: "The Mushroom Guys." OR as we like to call them… the funghi's… get it FUN-GUYS!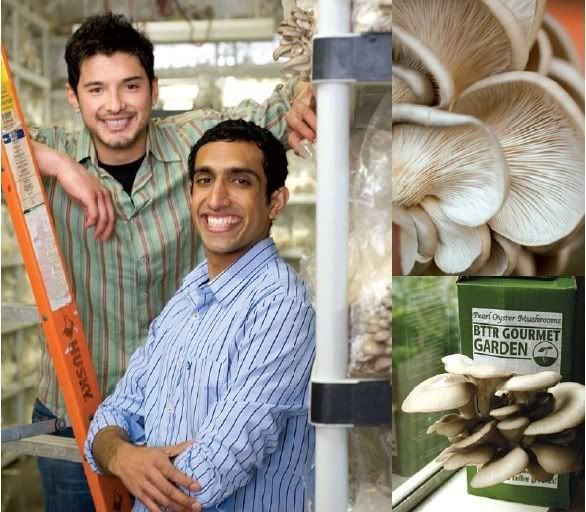 After graduating, "we then started Back to the Roots…a name symbolizing sustainability, innovation and social responsibility," says Nikhil. What is so unique about Back to the Roots is its completely closed loop system. Every morning, they collect coffee grounds from local cafes (about 10,000 lb /wk) and use it as a soil for their fresh mushrooms and Easy-to-Grow Mushroom Gardens. The leftover coffee grounds, enriched by the mushroom growth, turn into premium soil amendment that is then donated to local nurseries and urban farms, giving back to the community from where the coffee grounds from.
Since they launched in 2009, Back to the Roots has collected over 50,000 pounds of coffee grounds & grown 7,500 pounds of mushrooms. Starting as purely an urban mushroom farm, Back to the Roots has recently transformed into a company dedicated to inspiring everyone to grow their own fresh food right at home…as local as it gets! They're doing this first through the Easy-to-Grow Mushroom Garden and currently donating 5% of all sales to support breast cancer awareness -a cause that is close to their hearts says Nikhil, "not only because of the anti-cancer property of oyster mushrooms, but also as our co-founder, Alex, fought through cancer in high school."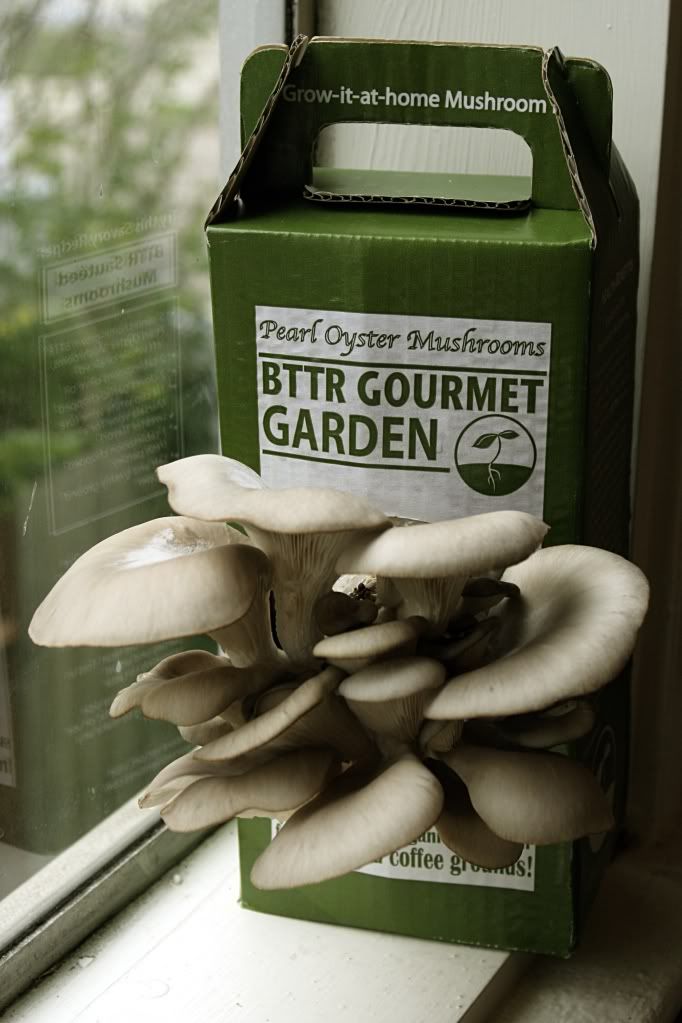 Their Easy to Grow Mushroom Gardens grows up to 1 lb of gourmet pearl oyster mushrooms in as little as 10 days, and yields multiple crops. It's a fun way to get whole family together and enjoy delicious home-grown food. The soil inside is 100% recycled coffee grounds as well…safe & sustainable! It's currently sold at 89 Whole Foods Markets and on their website.
If you want to try growing 'shrooms, use the discount code GGA20 on the checkout on the website and get 20% off!

Happy Harvesting!