Did the title of our last Valentine's Day Gift Guide (These Valentine's Are As Vegan As Your Vagine) scare you? Not to worry, these less frightful options will make sure you know what to buy him or her… but hustle.. only 1 week left to get your eco-presents in gear!

And don't forget prezzies for fabulous, gorgeous, awe-inspiring YOU! Treat the ones you love, but do not forget to threat yourself!
Skip indulging in sugar and have 'em scrub you down instead with the Fresh line from Mama which is made from100% natural ingredients and rocks recyclable packaging.www.loveyourmama.com, $16 each.
You remember singing this song while crushing on Tommy or Mary in 5th grade chorus? 15% of the proceeds of this cool print benefit www.americanforests.org.This Land is Your Land print, $45, available at www.theworkingproof.com.
Want to indulge.. but just a little? Delish dark cacao macaroons, all vegan, all organic, all yum-in-the-tum.
Baked just for you and shipped wherever you say so by Emmy's Organics: 12 macaroons for $12, available at www.foodzie.com.
Want to indulge your childhood sweet-tooth, but in a way more gourmet way?   Order a pile of these Whoopie-Pie's from the incredible PattyCake Vegan Bakery ($3.25 each,) where you will want to order absolutely everything on the webstore.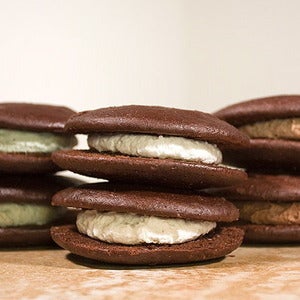 Have a little one? It's all love in this super cute organic onesie, $33 available at www.kitlili.com.
Pick a letter, any letter in this fantastic Valentype font which comes on solid maple and is wall-hanging ready. Get them for $50 at www.houseind.com
Sometimes it's what's underneath that counts. Sex it up in these handmade in the USA organic boy shorts from Clare Bare. Available for $26 on www.etsy.com.
Suggest a thing or two with these handmade pillows from recycled felt made from recycled water bottles and filled with eco-polyfill.   Alexandra Ferguson Pillows, $45 to $119 on Etsy.com.
Give the gift of dreaming! This 5 week online class is all about transforming your biggest dreams into practical realities. Before you snortle, a few of our VIPs have taken this course and swear by its transformative properties.   $99, www.mondobeyondo.org.
All these juicy tidbits and ideas courtesy of the adorable Jennifer Pete.   Jennifer is the creator of the gift giving service Storiesofgen.com and partner in web based delivery service Zifty.com in Atlanta.