If you are a regular to GirlieGirl Army you already know we will never tell you to get someone a Gift Card or a Membership to a Steak-of-the-Month club.   But what we will share are unusual, ethical, and fun gifts for everyone on your list in numerous Gift Guide blogs coming in the following days, starting with this one.
One little tip you should never forget is always remember to look up coupon codes online before you purchase anything.   Sites like retailmenot.com and our very own cheapskates section are chock full of money saving lil' codes which will knock up to 30% off your purchase.   And even if you just get free shipping, wasn't it worth a little extra leg work?   Your Grandfather would be proud.
These gorgeous oil-burning lamps are for the utterly stylish design connoisseur.   And only for those with big, phat budgets.   There are only 66 sets available, selling for $650 each, but boy are they gorgeous.
Why not save yourself a boatload of money and brew your own Kombuchas?   For $25, this gift pays for itself after the first brew! And it contains everything you need to brew your first batch of Kombucha, so don't worry about needing to buy extra supplies.   This is a perfect gift for the 'buch lover, hippy dippy, health nut, or brewski fan in your midst.   And the price is right!

The vegan girliegirl you love (and her tired feet) will thank you when you buy her these unbelievably comfy, totally eco-friendly and vegan boots which will be a chic, welcome change from her stilettos.
Spot deserves prezzies too!   Afterall, he cuddled you when you broke up with that douchebag and puts up with eating your scraps. Now he can make a statement about his gratefulness to you for adopting him, and look hella purty.
Everyone we know is coveting the new Polaroid, so we may as well buy it for the gal or guy who already has everything else.
Let the health enthusiast in your life kick it up a notch with a top rated juicer, so she doesn't need to shlep to the health food store everyday for that green juice.
These hand-carved earrings from sustainable coconut wood are absolutely lovely and totally within budget.
Or go up a bit in price and buy her this eco-gorge necklace made from beaten, recycled pennies!   Talk about a conversation piece!
Always appreciated, and forever within budget gifts that keep giving (other than Herpes!) are magazine subscriptions.   Not as impersonal as a massage gift certificate, because you can really gear your choice of subscription towards the gift receivers personality.   We love BUST (for crafty, savvy girls), BITCH (for the thinking feminist), O Mag (for the spiritual seeker), Mothering (for the   holistically-inclined Mommazon or Mommy-to-be), VegNews (for the vegan or vegan-at-heart), and Details (for the metrosexual who loves to surf for cuff links online.)   Of course, you could never go wrong with a years subscription to the New York Times, but that will run you a bit higher than $20!
Now he can hug his tree while sipping his tea.   Perfect for the nature lover, or mug collector.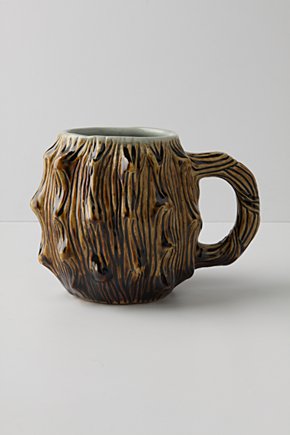 Your favorite little imp will look beyond precious in this bunting outfit.
Cliche as it may be, every man in our posse would appreciate a pair of cozy, rustic slippers.
GirlieGirl Army's Creative Director Jeremy Davis (of Built By The Factory) is the most difficult man to buy gifts for.   So, for this holiday season, we thought we would share some of his personal gift picks for the guys to save you the stress.
"This is hands down one of the best shows since the invention of TV.   If you haven't heard of it or seen it yet, you need to pull your head outta your ass.   Season 2 is just about finished, so catch up on the back story of SAMCRO with the Sons of Anarchy Season 1 DVD's." The motorcycle lover, rebel, or lover of tattooed men and women in your posse will go nuts for this show, without a doubt.

Ipod Touch; "Do I really have to explain what this is?   If you want to get your guy all the features of the iPhone minus the monthly phone bill, this is your ticket.   Can store days of music, watch videos and tv shows, and use almost all of the same apps that are available on the phone."
The Beatles Box of Vision. For all you music fans, here's a must have from the Fab 4.   The BOV includes: An LP sized book containing all of THE BEATLES album artwork, collected together for the very first time, the brand new Catalography guide to THE BEATLES catalog of albums, the patented BoxOfVision storage book for organizing and displaying your collection of BEATLES CDs – including the digipaks for the CD Remasters.
These "Money Bag" wallets are hand made from vintage money bags.   A pretty unique and very green way to carry your cash.