Organic Vegan Food Truck Hits the Streets of Dirty Jersey
Published on March 5, 2010 by admin · 5 Comments
Pin It
SUBSCRIBE NOW FOR OUR WEEKLY NEWSLETTER
Forget the Jersey Shore.. this is good eats we are talking about! Bet you didn't know you could chow down on gourmet, affordable fare via a truck!
The Cinnamon Snail, an Organic Vegan food truck just hit the streets of Dirty Jersey, and boy are us Manhattanites jealous! The truck operates five days a week (weather permitting), serving Hoboken NJ.  The truck's owners are working at getting a permit to run the truck in Brooklyn next, so Williamsburg hipsters, keep your bow-ties tied and ready. Chef Adam Sobel, the truck's captain has dreamt of bringing gourmet vegan fare to the streets for eight years. For the past three years, Sobel has run Certified Orgasmic, New Jersey's only Organic Vegan full service catering company.
The truck's menu has been designed to bring nourishing, elegant vegan food to the streets.
Some of the trucks most popular dishes include:
Creole grilled tofu sub on toasted baguette with arugula, caramelized onions and grilled tomato.
Red wine roasted tempeh with white truffle mashed potatoes, greens, porcini mushroom gravy and garlic confit.
Smokey portabello carpaccio, on semolina fennel bread with kalamata olive tapenade, arugula, and capers.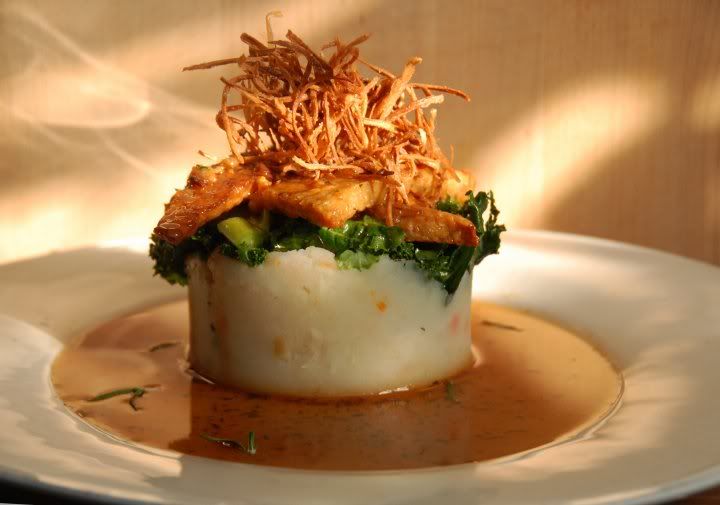 In addition to elegant lunch options, The Cinnamon Snail also offers a complete breakfast / brunch every day until 11:00. The truck's large display is filled every day with fresh hand crafted vegan donuts, pastries, and specialty desserts.   Yuuuuuuum.
The Cinnamon Snail stays in touch with it's customers using social networking sites, so you can tell them what you did or didn't love and find out where they are every day. They are able to post their locations, specials, and other up to date information this way.
You can follow them on twitter here or watch them on Facebook here.   And you can keep dreaming of a utopic time when instead of a McDonald's at every corner, we will have a place to grab something healthy to eat.   In the meantime, support small businesses like these so they can grow and franchise.   It benefits our bods, the environment, and (of course!) the animals.
FREE DONUTS FOR GIRLIEGIRL ARMY READERS!!   When you mention GirlieGirl Army to whomever is at the helm of the truck, you'll get a free donut.   How's that for recessionary love?
Bon appetit!
Tags: Abigail S. Bean, Adam Sobel, Certified Orgasmic, Chef Adam Sobel, Hoboken NJ, Hoboken NJ Vegan, http://a-soy-bean.blogspot.com/, New Jersey Vegan Caterer, organic vegan catering, Organic Vegan food truck, Organic Vegan full service catering company, The Cinnamon Snail, Vegan Food in New Jersey, Vegan Food in NJ, Vegetarian New Jersey
Pin It